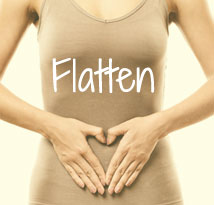 Immediately feel leaner and cleaner as you nourish your body, clean out your digestive system, and shed belly fat.
Maximize belly fat loss with boosting anti-inflammatory foods rich in nutrients that soothe your belly and help keep your metabolism fired up.
Reach the perfect equilibrium and enjoy meals with an ideal balance of fiber, protein, and healthy fats to maintain your weight loss and keep your tummy happy.
Relieve digestive issues

and shrink your waistline with the new, sensitive stomach meal plan from Liz Vaccariello, the New York Times® bestselling author of The Digest Diet.
Keep a food log
Track your symptoms
Create shopping lists
Browse recipes
Share reports with your doctor
The entire test team saw positive results before the 21 days was complete. The 21-Day Tummy helped them overcome digestive slowdown and identify pesky trigger foods. Hear their stories
Great news for foodies! The foods that calm and slim your tummy are also flavorful, filling, and fabulous. Enjoy meals like this yummy salmon dish while you lose inches from your waist. See the recipes